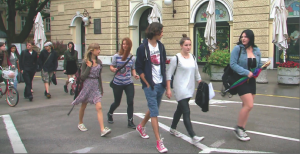 90-minute creative cross-media documentary project.
A lively, multicultural crew of teenagers around 16 and 17, are looking forward to graduating from school soon. This summer they are raring to go, open for whatever might come their way and also a little bit funky because, of course, they've heard a few things about how it's not an easy employment market for young people. Then there's climate change, energy policy, conflicts over water and raw materials and the division of people into rich and poor…
Closer to home, right at this moment, their teachers have an epoch of societal change on the agenda. But the youngsters no longer take their school as a place of learning so seriously anymore. They would much rather meet one another at their hangouts in the old town or visit people and places where societal changes are already at full tilt. The school also has contacts with Hamburg and this is where the students want to come for their graduation trip.
One of them is INNO. She is quite different. She seems to be something of an Attac activist and hacker and is a well-networked blogger. With demanding questions, outside-the-box suggestions and her rough charm she is often well ahead.
During their independent explorations on the Internet, via Skype, in laboratories, contacting individual experts, inventors and through their own activities, these young people examine the influences of trailblazing inventions and ideas on society and their own lives. They discover what a great effect innovations can have – but also that many so-called innovations have contributed to the fatal destruction of our environment and are still doing so.
So they ask themselves which innovations, if any, could be sustainable without damaging nature and endangering the future of coming generations by the destructive exploitation of raw materials?
On their graduation trip to Hamburg they swap experiences with their counterparts at a progressive school. They quickly realize the students there have the same questions but sometimes different solutions. Together they look up innovating scientists, technology experts, grassroots activists and lobbyists. The companies and organizations involved – Attac and Greenpeace, for example – operate on the local, national and international levels in the fields of science, energy, the environment and social issues.
By the end they know for sure: the solutions lie beyond everyday reality as we perceive it and through their own creativity, outside-the-box thinking and willingness to exchange knowledge in cooperation with others there ain't no mountain high enough they can't climb! They CAN change the world!
It can now all kick off.
The film is a colourful rag rug of many elements. Two highly engaged observational cameras accompany the young adults everywhere they go. The adolescents also film their own videos of their discoveries – not only for themselves but also for their rapidly developing website. Archive material brings in historical information, the Internet delivers the latest information on societal developments. CGI and animated inserts illustrate complicated content. Comic cartoons caricature the state of things and the young adults also use the theatrical stage to act out opposing opinions.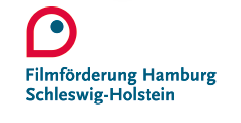 Certified as an environmentally friendly production